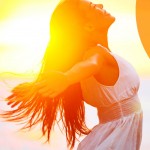 The following testimonials are in reference to intuitive sessions with Leslie Draper.  Leslie receives referrals from doctors, psychologists and physical therapists. Leslie's work compliments traditional medicine. She favors a balanced, holistic approach. She does not give medical advice but rather makes suggestions based on Angelic insights. Please consult your physician for medical advice. 
Testimonial
In August, 2012 I had a total knee replacement.  Leslie and her angels came over about a week after the surgery to give me an "energy healing."  Leslie told me that my body was treating the knee as a foreign object and then proceeded to bring my knee into harmony with my body.
Thirteen days after surgery I saw my doctor to get the staples out of my knee.  My doctor was shocked and very impressed with how little swelling I had.  The following week my physical therapist did a "knee flexion" measurement on my knee.  He too was shocked and surprised.  He told me that normally at the end of 2-3 months of therapy after total knee replacement, their goal is to have a measurement of 120°.  My measurement, in three weeks post surgery was 128°.
Now, I had an excellent physician and a wonderful physical therapist but there is no doubt that my excelled healing was a result of the "energy healing" that took place with Leslie.
Charlotte Hayes, Healing Client
***
Testimonial
 I had a healing session with Leslie and the outcome was amazing.  Not only did I physically start feeling much better, my life started to become better.  I felt very stuck in my life when I went to Leslie, and with her angelic insight, she was able to give me clear guidance about how to move forward in my life.  My life has been happier ever since my session.  Leslie has a true gift, and she has been a blessing in my life. Thank you!
L.K.C.
***
Testimonial
I had an un-diagnosable illness. I had been to specialist after specialist, but no one could figure out what was wrong. My blood work was always borderline and my health continued to deteriorate. I had a session with Leslie out of sheer desperation. She told me I had a soul fracture from my childhood that was causing my health issues. She suggested I be tested for the MTHFR gene mutation and I did have it. I began taking the vitamins Leslie suggested and drinking green juice, and over the next two months, I began to feel better. And by doing the homework Leslie suggested for the soul fracture, I healed my body and my soul. I am so grateful for Leslie and her Angels.
-Ann
***
Testimonial
I had a healing session with Leslie and she told me my vitamin D levels were too low. She suggested I take 10,000 iu of D3 per day for 5 days a week. She also told me my B12 levels were too low. The next week, I paid almost $400 to my doctor for lab work to be done and sure enough, my D and B12 levels were too low.
-KB