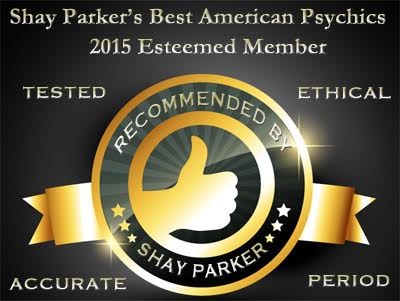 Tested.  Accurate.  Ethical.  Period.
Shay Parker's BEST AMERICAN PSYCHICS is an organization that I chose voluntarily to apply for membership.
First, if you know me at all, you know I am not a fan of the word "psychic." That word has such a negative connotation for many people. I am a Light Worker, a Light Holder, a Minister, a Person of Faith, a Spiritual Teacher, a Soul Healer, an Angel Whisperer, An Intuitive, and an Intuitive Coach.
I help clients heal their bodies, minds, and souls. I help them move past blockages and karmic cycles to create joyful and purpose-filled lives.
But in this field, there aren't a lot of options for professional associations. Basically, any one can claim to be psychic/intuitive and claim to have a connection to Spiritual Gifts. And sadly, there are individuals who claim to be gifted to use manipulation and fear to cheat and exploit money from others.
I joined BEST AMERICAN PSYCHICS because as a professional organization, it has rules and guidelines for membership.
First, I had to pass 2 separate completely blind intuitive consultations. I knew nothing but a first name for the sessions. Then I was interviewed as to my education, experience and ethics.
I am a member of BAP because it's my way of saying that I am honest, accurate, ethical, and I'm willing to put myself to the test to back it up.